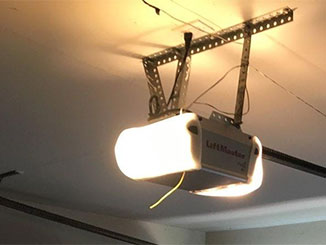 If you've noticed that your garage door has been struggling with problems such as jerking violently as it moves, making much more noise than before, or reversing abruptly, the issue is likely with your garage door opener. Ignoring it will just allow the trouble to worsen, and may lead to your door completely breaking down when you have places to be! That's why it's best to let our team tend to it now so you won't have to worry about it later on down the line.
High-Quality & Quick Repairs
Whatever the problem may be, from the motor to the circuit board, our professionals will inspect your opener closely to determine the source of the issue and take care of it. Parts are bound to get worn over time from daily use, and may need repairs to keep working correctly. Replacements of the whole part may also be required depending on the extent of the damage. We use the best tools and parts available so you can rest assured that it will last you for a long time. If the opener itself proves to be too old to work well, or you want to upgrade, we'll assist you with finding the perfect replacement.
Expert Installation Of New Openers
No matter how simple an opener may seem, one misstep in assembly or installation can lead to it wearing out and requiring repairs faster over time. That's why it's a good idea to let trained technicians take care of it all for you so you can be certain your new opener will be working smoothly. We're knowledgeable of all the biggest manufacturers from Genie to LiftMaster, so whatever you have, we can help. We would be happy to install an opener you've already purchased, or assist you to pick out one that's best suited to your home's needs.
Contact Our Professionals Now
Call Garage Door Repair Castle Rock for anything your garage door needs- from quick repairs to professional installations! Try our easy online scheduling system or give us a call at any time! We're always at your service!
Want more? Let us take care of:

Garage Door Remote Clickers

New Garage Door Keypads

Oil Tempered Torsion Springs

Roll Up Garage Door Services