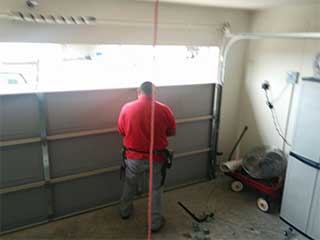 Save Yourself A Headache
The best way to avoid a sudden desperate day when you need to get out of the house but your garage door refuses to budge is to keep an eye out for problems beforehand! Things like your door slowing down, making a lot of racket, or even reversing suddenly as it's trying to close are all signs that it could use some repair work. Getting these problems tended to now on your terms can spare your future self from dealing with an abrupt emergency issue later!
Don't Leave Your Panels Broken
Accidents happen sometimes, and you may find yourself with a panel sporting a dent or crack in your door. Even if you don't particularly care about your door looking shabby, you should care that continued use of it in that state will only further the damage! It can also stress other components of the system and cause more problems over time. We can repair or completely replace the panel easily and get it looking like new again in no time.
Let Us Handle Broken Springs
Allowing professionals to take care of most garage door repairs is for the best, but this is particularly true with the springs. They hold the weight of your door, which makes them very dangerous to be messed with. Any misstep can result in a lot of harm to you or the whole system, so let us tend to it! We're knowledgeable of torsion and extension so we'll get them switched out right away and ensure that your door is able to lift up easily again.
We Repair And Replace Openers Too
Our technicians have experience with all the major brands like Genie and LiftMaster, so whatever opener type you have, you can rest assured we'll get it working again in no time! We can repair and replace parts or switch the opener out entirely for something new.
Call Us Today
Contact Garage Door Repair Castle Rock for the best repair service around!
You can also count on us for:

Garage Door Cable Replacement

24 Hour Garage Door Service

Commercial Garage Door Repair

New Garage Door Installation