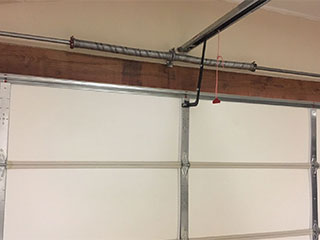 Why Do The Springs Matter?
Your springs serve a very important function, and without them your door wouldn't be able to move quickly when you need to get in and out! While the opener is what stimulates the system to get things going, the springs provide the muscle to actually lift up the door. It's heavier than you might think! Should you notice any odd signs such as the door falling to a close rather than slowly shutting, shuddering a lot when moving, or other indications it's having trouble working, the problem is likely with the springs! That's when you know it's time to give us a call.
Are Torsion And Extension Springs Different?
Yes, they're different in how they create and store the energy they use to lift up the door! Torsion springs create tension energy by being twisted to coil tightly and keep that energy there until it's needed. Alternatively, extension springs are stretched tautly apart to do this. The problem with the latter way of doing this is that the constant pulling to their limit makes extension springs break far faster than torsion, which is why the professionals prefer torsion. Extension springs can also be damaging to your car, belongings, or even people when they break because they usually snap and go flying as a result.
We'll Take Care Of It All
Don't risk attempting to perform services to your springs yourself, as this can be very dangerous to anyone inexperienced. Not only may the spring itself dislocate and harm you, but the whole system may be damaged if it isn't installed correctly. Our technicians are glad to do it for you safely and far more easily too! We'll get your springs adjusted or replaced in no time, and your door will be working like new again! Torsion or extension, we can tend to them both.
Just Give Us A Call Today
For the best spring services around, contact Garage Door Repair Castle Rock. You'll be glad you did!
We also offer the following:

Part Replacement & Lubrication

Garage Door Weather Stripping

Garage Door Transmitter Repair

LiftMaster Chain Drive Lubrication